ARTWORK:
SPIRIT
NEEDLES
BLOGS
CREATIVE








PAST
...i am a princess on the way to my throne...
4.18.2007
Le Stink
Question for all you perfume junkies out there: ever see a perfume and due to its uniqueness/quirkiness/all-around-uber-coolness you absolutely can't resist it and then it turns to something little better than dog wee wee on your skin?
*sigh*
That's me and
Kenzo
perfumes. They are so cool, so clean, so warm weather-ish that I fell in love with them. Alas, my body chemistry didn't appreciate them like my nose did and I ended up gagging instead of swooning.
*bigger sigh*
Ah, well...off to search some more for the perfect spring time scent.
|
4.17.2007
From the Photo Archives
In the mood to share a picture. It was taken at our previous home, but everyone is still pretty much the same: fat, happy, and lazy (hubby excepted...he's just happy.:))
Behold Les Lazy Butts: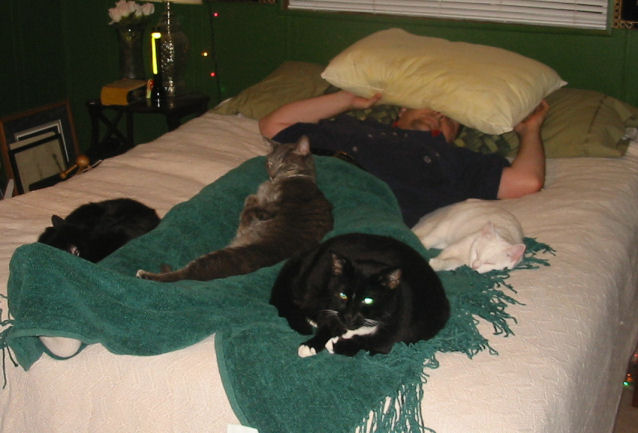 L - R: Julius the Black Menace, Irwin named a la Steve Irwin, Mulder da Boo-Boo, and Gypsy Princess Kitty. The hooman is Husband.
*sigh* Just a gooshy, sweetie moment I wanted to share.
|
4.16.2007
A Lovely Weekend
I've been out of town this weekend, celebrating the 50th wedding anniversary of my in-laws. The food was wonderful, the company first-rate, and a lovely time was had by all.:)
And right before I left, I was able to finish my Clapotis! Woohoo! Do I have pictures? Of course not! Because we *still* can't find the cord to our digicam. I've discovered that one of the things that adds to the interest of blogs are pictures, particularly blogs of a crafty sort, and yet here I am, once again, with no pictures to offer. Whip me with a wet noodle, please. 'Tis most discouraging.
Needless to say, this does little to diminish my joy of having my very first large knitting FO. Using 6 balls of
Noro Kuryeon color 92
on size 8 circular KnitPicks Options, it swathes me in a muted rainbow. I blocked it within an inch of its life, and since Kuryeon is straight wool it reproduced itself by nearly 30%. I can hardly say how much I love this piece. I even found a lovely little shawl pin with a faux turquoise stone topper to wear with it. I love it so much I've already made plans to start on another one (as a matter of fact, I've had the yarn for Clapotis No. 2 for nearly two weeks. Luck favors the prepared).
Pros and cons of Kuryeon: it is definitely slubby. If a yarn that ranges from DK weight to bulky bothers you, skip this one. If you can get past that, it's certainly a yarn worth investigating. Of course, no one does self-striping better than Noro, so the color work is an absolute thrill to watch emerge. The wool does tend to be a little rough on the hands, but it softened nicely once it had a bath. I fully intend on using it again for another Clapotis No. 3, but for No. 2 I'm going with
Noro Silk Garden Lite 2027
. It is much softer than the Kuryeon, and is a DK weight. I've seen about a gazillion Clapotis knitted in regular Silk Garden, but very few I've seen in the Lite. I am looking forward to experimenting with this lovely yarn. Methinks I've become a Noro addict, yes?
Right now, however, I'm taking a break from the Clapotis and working on something a little less sophisticated: the
S'n'B Alien Illusion Scarf
. I'm using one ball each of Cascade 220 in Black and Lime Green, and whizing away on size 7 Addi Turbo circs. Yes, I am strange and I can't *wait* to finish this project!
The green fits nicely for Project Spectrum. *grins*
Okay, enough blogging, back to knitting...
Labels: knitting
|
4.03.2007
Revelation
The days of late have been a time of deep reflection. I have been doing a lot of searching and growing, reaching into myself. I have been communing with God in ways I have not done in a long time, and it has felt so good. It has also cast light in areas that have been formerly shrouded in darkness, and with exposure has come self-revelation.
I used to be very close to God. His desires were my desires, His wants my wants; I wanted to use my gifts and callings for His purpose, to edify and shed love on others. I don't quite know how it happened, but a lot of the things that I once held as consecrations I have let slip by the wayside. I have ignored those sweet, subtle Callings and pressed on to do my own thing. Now, however, I feel His gentle wooing and I'm ready to embrace Him once again.
What does this mean? I'm not sure exactly, but I know one area He is wooing me in is my artwork. For years I've allowed my talent to lay dormant, and it was not until 2005 that I started developing it again. I am so proud of the works I have accomplised since, even those that that I don't "like" very much. Each piece, regardless of how good or bad, holds a place in my heart, for each piece is a teacher. I've learned so many things about technique through experimentation, but I've also learned a lot about myself. My work is very 'girly', and it pretty much mirrors the artist within. I love the fairies and Celtic women I've portrayed, and some of these pieces are like old friends.
Yet, there is now a longing in me to do more. God has been calling me, in that sweet voice, to go deeper. He is calling me to explore my faith and use the canvas as expression. Can I do it? It seems no problem for me to create things from my imagination, but to create things that stem from my
soul
? It's a prospect that's scary and exilirating at the same time. The desire to share my beliefs with others through my work has always been there, but I've spent so much time carving out a certain path for myself that I've ignored that desire. And God is so gentle; He never forces us to do things, not even the things we really want to do. He just gently knocks, patiently and sweetly, until we decide to open the door. And what do you do after you invite Him in? Do you just sit Him in a corner and ignore Him, or do you fellowship with Him? Well, I'm tired of having Him in a corner, so I think it's time to break out the bon-bons and coffee and treat Him to tea.
It feels good to have His arms around me again. Although He's always been here, I've always been
there
, if you know what I mean.
*****************************************************
I want to thank everyone for putting in their votes towards the Wing 'O the Moth shawl yarn choice. After much deliberation and tearful agonizing (I take my yarn very seriously, you understand) I have decided on
Platinum
. It was a very close race: the runner-ups were Vintage Jade, Mother-of-Pearl, and Mica. And trust me: I will be knitting with all of these colors at one point or another, as well as Dream and Teal Tide...oh, so many wonderful colors! This was not an easy decision, I assure you. However, I realize the one thing that really sold me on this shawl was the frothiness of the original.
Anne
used
Douceur et Soie
in Ivory, and it positively glows in the photo. I want that same kind of glow, and I thought Platinum would work the best. And I'm right; when I opened my parcel and saw the skeins, I gasped. This is going to be one incredible shawl!
Alas, I can't start it until I finish
Seraphim
and my
Clapotis
(I'm in round 8 of the straight rows section...I'm bleeding from the eyes...). I keep waiting to see if there will be an Amazing Lace 2007, for if there is I want to enter Moth as my partner. I keep peeking at the web site to see if there is anything new, but so far I keep getting a "Not Found" page.
Of course, whether or not there is an Amazing Lace, Wing 'O the Moth will be my Project 'O the Summer and I can't wait! I've been frothing at the mouth to start this project since November. Woohoo! But I have to finish the others first, yes, I must I must. So many projects, so few hands...
|