ARTWORK:
SPIRIT
NEEDLES
BLOGS
CREATIVE








PAST
...i am a princess on the way to my throne...
3.29.2006
*Sigh*
*Sigh*. What a beaner of a couple of days.
Yesterday I woke up with laryngitis, aches, and pains, which has spilled over to today except I can talk. I had to take down my Johari window, for someone or someones decided it would be really funny to add all kinds of insulting names in there for all the world to see. That's okay; I'll just pray for them. That always seems to make people mad who want to see you rant and hollar and scream, when you just smile and say "I'll pray for you". *grin* Although, it did hurt me very deeply at first, but some lovely ladies helped me see the troll/trolls were not worth the wasted energy.
And then I check my e-mail today (for the first time in I don't know how long) and I find this e-mail from DELILAHJEA@aol.com written to me on March 17th:
Are you a man? You look creepy in your picture.
Uh-huh. Of course, no name was given of the sender, just an anon letter. The subject title was "Mirabilia", so I have no idea what's up with that. Of course, if I was a man, I'd be offended because it said I looked creepy. And, not being a man, I should be offended because this person obviously thinks I look like a man, and creepy to boot. I'm not really offended, because the person has either seen a picture of Haldir as my avatar and apparently has no clue regarding LOTR, or the person has seen my avatar of the cartoon version of me, in which he or she needs glasses because anyone who has seen that pic can tell most certainly that it does
not
look like a man.
*Sigh*. This is what it's been like the past couple of days. I think I'll go back to bed.
Oh, wait...I'm drawing again. Here's a couple of sketches to keep you entertained. Hopefully I'll work on coloring them soon, but I've got some stitching to do so we'll see.
Fert Fae
No More Chocolate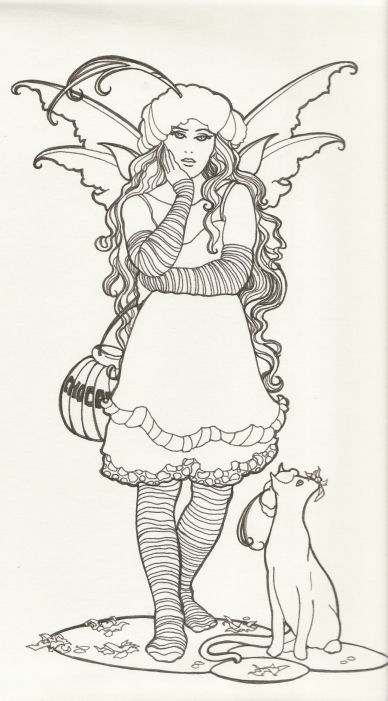 |
3.27.2006
Sick
I've been sick all weekend with The Crud of All Cruds, and today is not much better. I did manage to get one mile walked on my trek to Rivendell, but I'm not sure it didn't do me more harm than good.
It's Spring, and it's cold outside. What is up with that?????
I've taken a further step back into that land of stitching and decided to get involved with my HAED's again. I've missed the HAED board tremendously, but I needed the past few weeks alone with my Miras. It sounds all crazy and weird, but it's my way of coping with Laura's death. I'm still not completely at terms with it, but I'm as much at terms with it as I'll ever be. Maybe later I'll talk more about it, but right now that's all I want to say.
Sorry I've been so boring lately. Just remember: God is good even if life sometimes is not.
See you tomorrow.
|
3.22.2006
Bug Haiku
Gross roach crawls on porch
Smack! goes the large rubber shoe
Gross roach crawls no more
Welcome to Spring.
|
3.17.2006
SWEAT
I'm sitting here after walking two miles with La Leslie, and I am one big red, heaving, sweaty, blobby mess. I can't believe I'm actually contemplating a quick break before walking one more mile to make a grand total of three. Am I insane? Harumph, what kind of question is that? I want to walk another mile, of course I'm insane.
Well, I'm hoping my tenacity will pay off this week with another pound zapped, but we'll have to wait and see. Tomorrow is my weigh day, and the day I'll be reporting my progress on Fat Attitude and the Walk to Rivendell board (links are in the sidebar, I'm just too blasted lazy to add them here, or perhaps it's the fact that my fingers are so sweaty they keep sliding over the keys. Whatever, either way you are all big boys and girls and know how to look for links in the sidebar, so I'll leave you to it! Either way, I digress).
Sigh. Zarquon frood!
Further update on the scent chronicles: I managed to aquire a little bottle of Victoria's Secret's Breathless, and all I can say is
blech
. The initial burst of scent is *wonderful*, but the drydown ends up smelling like wet gym socks on me. Dirty wet gym socks. Gym socks I've just walked two miles in. I so desperately wanted to like this scent for I love the first whiff, but
ew
. So I'm returning it for Pink, a more sparkly fruity scent. Pink combined with Vanilla Lace lotion may make me smell a bit like a custard fruit salad, but that is a whole lot better than smelling like nasty gym socks. Besides, I love vanilla and I'm in the mood for soft today.
Anyway, look for updates tomorrow. I'll either be laughing or crying in regards to weigh-loss, but either way I'll be enjoying my free day.
Toodles!
Za mood:
go team!
|
3.15.2006
Scents!
Anyone who has been around me for five seconds knows my obsession for perfumes. Body sprays, eau de toilettes, parfum, scented oils, whatever: I'm hooked. Yesterday, however, I shocked the perfume world by trashing all but a few products in my toiletries stash. Names like Christian Dior, Ralph Lauren, and Thierry Mugler went flying around the room in reckless abandon as I shifted bottles and made my decisions.
The ones that I am now wearing are as follows:
Victoria's Secret Amber Romance
.
I have the body gel, body lotion, body cream, body scrub, body spray, and eau de toilette. This warm, creamy, amber-vanilla scent brings me comfort whenever I need it and it's great for fall and winter.
Victoria's Secret Endless Love
.
Finally, my quest to find products that smell like Herbal Essence has ended! I have the body lotion, eau de toilette, body scrub, and shower gel. It's light, lovely, and perfect for spring.
V'TAE's Lemon Rose
.
I have three bottles of the aromatherapy lotion and three bottles of the perfume, and it has one of my favorite signature scents for summer. It smells exactly like freshly-squeezed lemons and soft roses. It's perfect. This scent is all the more special to me, because some incredibly generous soul sent me two bottles the lotion and perfume as a gift. I don't know who did it, but I absolutely love them for it.:)
Bath and Body Works Country Apple
.
All they sell in this creamy, apple scent is the bath gel, body spray, body lotion, and creamy hand wash and I have them all. I adore this scent, and it's another one perfect for fall.
Victoria's Secret Dream Angels Heavenly
.
What can I say? This is one of my favorite scents ever! It's a soft vanilla musk, but the vanilla is not at all heavy. It's a very comforting scent that I love to layer. I have the angel body wash, the body lotion, angel mist (which is equivalent to a body spray) and a tiny bottle of perfume. I am definitely putting the large bottle of perfume on my Christmas list! This is absolutely one of my favorite scents ever and I will be wearing for a very long time, no matter the season.
Victoria's Secret Body by Victoria
.
Let me be clear: I've never much liked clean scents, but this one has won me over completely. It's a clean, watery floral that makes me feel super clean and feminine. It reminds me a lot of Vera Wang, a scent I love but just can't afford (it's twice the price of Body by Victoria). It pairs very well with Bath and Body Works White Cherry Blossom. I have small bottles of the perfume, the body lotion, and bath wash. This has definitely become my scent for spring and summer.
Christian Dior's Miss Dior
.
I have literally been wearing this perfume since I was five years old, and I still have the small sample bottle I got from a friend's mom at a sleepover. I also have a larger bottle and the body lotion, but it seems like they have changed the formula for it doesn't smell the same as it used to. I like to wear it when I want something of pure elegance.
Origins Fret Not
.
When I want a blast of tangerine, this is the one I reach for! I have the perfume and body lotion, and it's wonderful after a hot bath. I pair it with
Origins Salt Suds
body wash, which smells absolutely delicious. Frankly, I will use anything from Origins. It's my favorite place ever for bath products, but I just can't afford it on a regular basis.
I have several others I decided to keep, but they don't stick out at me at the moment. As you can tell, I've become a *huge* fan of Victoria's Secret scents. I almost never forgave them for discontinuing their signature perfume Victoria, which I hope to find on Ebay one day. It was my favorite at one time, and I still have half a bottle of Victoria lotion that I am slowly nursing. Other VS scents I want to get are
Breathless
and
Vanilla Lace
collections. I'm also curious about the new Magnolia Blossom that's coming out at Bath and Body Works in April, and I'd love to add more of the
White Cherry Blossom
to my collection.
Perfumes I've depleted from my stash are Christian Dior's Dune, Christian Dior's Pure Poison, Bobbie Brown Beach, Ralph Lauren Blue (perfume and body gel), Paul Sebastian's Design (I adore it, but I've worn it for years and need a break), Thierry Mugler's Peony Angel (*very* expensive stuff but I'm just not going to wear it right now), Thierry Mugler Angel Innocence (very similar to the original Angel but not quite as strong), a small bottle of Calvin Klein's Sheer Obsession, and a small bottle of CK's regular Obession. There are tons more, and I don't know what I'm going to do with them. That said, I can't bring myself to throw them out. Most of them are 3/4 full. Right now they are sitting in a big pink VS bag, just looking pretty. Oh well, I'm sure I'll think of something!
But you see? It's almost as obsessive about my scents as I am my cross-stitch stash *
grin
*.
I'm feeling:
chatty
|
3.14.2006
Here
I'm sorry I've been gone so long, but I really needed a hiatus. I'm fine, truly I am, but apparently I've had some people worried so I thought I would take a moment to post and say hello.
I had a weird moment the other day. I was browsing blogs, and I clicked on Laura's blog, as I've been doing every day since she died. I don't know why, but it's a ritual I've started that I can't seem to break. As I clicked on it, the "cannot find server" page popped up. I kept trying and refreshing, and still nothing. I thought perhaps Neil had taken her blog down, and I started to cry uncontrollably. I know it's bound to happen one day, but for some reason seeing her blog no longer there made everything so
final
. As it turns out, it must have been a blip because her blog is still there. I guess it showed me that her death has affected me even more deeply than I first had thought. Even now I still have moments where I stop and think to myself, "I can't believe she's gone".
Sigh
. What a drag.
Anyway, I really am doing fine. I'm really focusing on getting healthy, and I've updated my Fat Attitude blog for those of you that are following it. I've even created the
Walk to Rivendell
bulletin board for those who are following the Eowyn Challenge. I need to tie up a few lose ends that I've let slip through the cracks (forgetting things is the bane of my existence) but other than that I'm pretty caught up with things.
I've been stitching faithfully on my mermaid for the Mira board's March Mermaid SAL, and here she is at Week 2:
Ain't she purrrrrrrrrty?
Well, now that I've busted the floodgates into blogging again I hope to be consistent once more. Thanks for being patient with me.:)
Za mood:
shy
|