ARTWORK:
SPIRIT
NEEDLES
BLOGS
CREATIVE








PAST
...i am a princess on the way to my throne...
12.23.2005
Stitching and More Stitching...
Before my post, I must take the time to decorate this blog for the upcoming Christmas festivities:
There. That is *
so
* much better.
Now...it's time for a few pictures.
Here is my progress on Castle of Spring: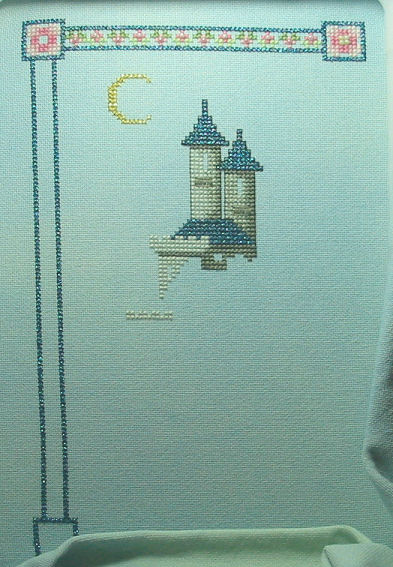 It's being stitched on a Silkweaver limited color called Waterfall. I purchased it a couple of years ago, and it's perfect for this piece.
I thought I would share a few piccas on how I organize my works in progress. I am a total bobbinator, and if my floss box is not orderly I can't function. Normally, I will reserve one box per project, but if I am working on two small projects I will share a box. Right now I am working on Castle of Spring and the soon-to-be Deco Spirits, and since they both do not require a large amount of floss they share a box.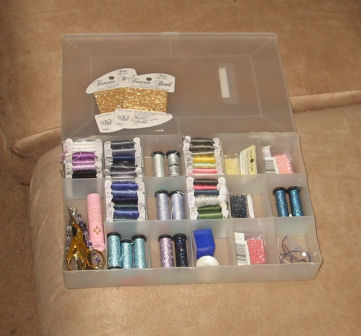 Deco Spirits is on the left and CoS is on the right. Each project has to have it's own scissors, as you can see here (with one of Angi's gorgeous fobs attached to it). The bottom right hand corner in every kit is used as an ort jar, and I empty it when it gets full.
Here is a pic of my stitching notebook, where I keep all the charts for my WIPs as well as any notes or color conversions for each project: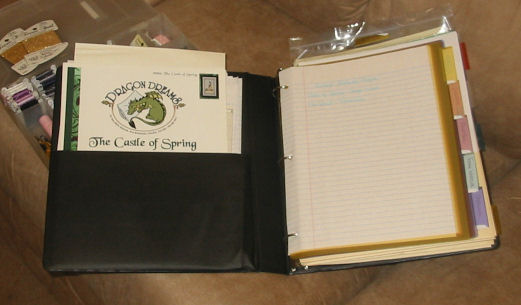 Here is a picture of my stitching shelf, the place where I keep my current kitted projects: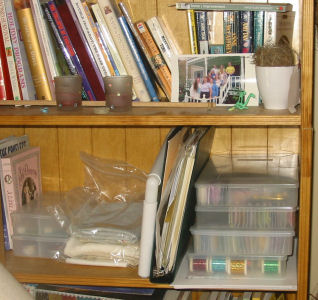 Here you see a box of sparklies, the DS and CoS kit, the Weeping Willow Keep kit, the Star Maiden kit, the Gaelic Banner kit, my stitching notebook, and fabric. You can also see a picture of the Georgia Stitchers Floss Lickers club on the shelf above it (one of my prized possessions).
Here is a picture of my stitching corner, of which you can see my knitting peeking out from behind the end table: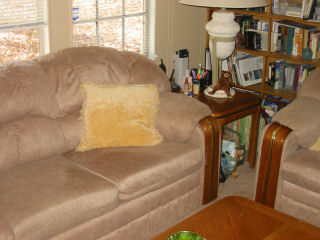 And last but not least, here is the progress so far of my Cheshire Cat scarf (of which I had to rip out nearly an entire color and start again):
Well, that's it for now! I'm going to be pretty busy over the next week, with finalizing some charts for Jo and, of course, with Christmas. Hopefully I'll get another post in or two, but I wanted to get these pictures up before things got too terribly busy.:)
|
12.21.2005
Early Morning Blogger
It's 1:30 AM in the morning, and I need to get my sorry bum to bed or sorry I truly will be when I wake up. The coffee I've had over the past few hours is not wanting to say goodnight, hence the later-than-usual post.
Last night (or should I say earlier this evening) I organized my 2006 lineup and pulled floss for my boxes. I will take a picture of them later today, in hopes of answering the question "Do you bobbinate or don't you?" with a few visuals. Through this insessant organizing, I've decided to list the first few projects from the lineup that are calling to me from the vast beyond to
stitch!stitch!stitch!
And the first projects will be:
Castle of Spring, Deco Spirits, Gaelic Banner, and Star Maiden.
(and the crowd goes wild!)
The rest will follow once those are finished. I may also reserve the weekends for a freebie or two, or something small from Jeanette Crews "Good Words".
And wouldn't you know, right before I go to get up, a big fat boo boo of a black kitty plops down in my lap and looks up at me with sleepy eyes begging to be kissed on the tip of his ebony nose. Ah, what's a mom to do but comply? I will as soon as I finish this sentence...And then said boo boo decides I took too long and stands up, giving me the one-eyed salute before springing off onto the floor below.
Of course. Felines. Gotta love 'em.
Edit: It's just a little after 12 noon, and I've just recieved an e-mail from Heaven and Earth Designs. Someone has taken it upon themselves to send me the chart
Ice Wind 1
and no name was given. It was listed 'from a friend'. I cannot begin to express my sheer joy at getting such a gift. I positively adore this piece, for when I look at it I feel nothing but light and warmth. It's a huge piece: it contains over 90 colors and measures approx. 14" x 21" when stitched over one on 25 count. However, it will be a masterpiece when finished. Methinks I will add it into my 2006 lineup, right behind Deco Spirits. It may take me the rest of the year to work on it, but it will be a wonderful journey.
Thank you, dear friend, whomever you are! You have truly blessed me today.
|
12.20.2005
Stitching Lineup 2006 (and a bit of humble pie)
Seeing as I'm still on this organizing kick, I thought I would organize my WIPs lineup for 2006. I dug out an old notebook that holds some older projects, and decided I wanted to finish some of what I started.
So, here's what is to be my 2006 lineup:
1) Fantasy Wedding Blessing and Castle of Spring by
Dragon Dreams
(although this may be finished before the New Year)
2) Celtic Cross (very nearly finished) and Gaelic Banner by
Dracolair
3) Scent of Old Roses (modified) and Deco Spirits by
Mirabilia
(had started it long ago but spilled lotion on it so had to tank it)
4) Mermaid by
Teresa Wentzler
(started looooooooong ago, decided not to finish, then decided to finish after all)
5) Weeping Willow Keep by
Chatelaine
(almost finished with one page)
6) Star Maiden, Fantavisions, a section of Night Sky Spins, and Flaming June from
Heaven and Earth Designs
. Understand all of this is subject to change, for I will resume my winter themed HAEDs for the 2006 Fall/Winter season. I'm also hoping to get Ian Daniel's Luna for Christmas, on which could be an immediate start.
Freebies include:
1) Dragon Dreams "Coffee Is Magic" (changed to "Coffee Is Miraculous")
2) Mirabilia's Bejeweled Bugs series
I was going to provide links to all the pieces, but I decided to be lazy and just provide links to the designers. Sorry, I just feel like a slug today.
Now: don't think for a minute I have any delusions of actually getting all of these finished. I can tell you right now, the TW and HAEDs will roll over into 2007 and probably 2008, but it's nice to have a goal. I can reasonably see the Celtic Cross and Deco Spirits getting finished, as well as the freebies. Castle of Spring will probably be finished before Jan 1st, or at least that is my goal. I would love to finish my Gaelic Banner, but it's a very long piece and I'm afraid of green burnout. It's such a gorgeous piece, however, and there is a story that goes along with this design that makes it very special to me (but I won't tell you until I'm finished with the project, so you'll just have to wait. Nenar nenar!).
On a personal note, I want to say that I'm healing. I know I've spoken about my bouts of depression pretty freely, but I've downplayed a lot of it. I've struggled with some things over the past few months that has left me knocked for a loop and not knowing what to do. I've even considered leaving my church: not leaving my faith, but just not going for a while because things were so painful, things I had created in my mind. I know now, however, that it was the one thing the devil wanted me to do; he knows that if he can seperate us from our spiritual base that he can torment us and feed us lies. Well, I've listened to enough of his bull-lark for long enough, and it's time I step up to the plate and start listening to God for a while.
Thank you to everyone who has understood, and I apologize for those I owe e-mails to. I've been forgetful, and I find that if I don't respond to someone as soon as I read it I will: 1) forget about the mail entirely, or 2)think I've responded when I haven't. This is my HUGE New Year's resolution, for forgetting e-mails is no longer "cute" or "eccentric" anymore. It's rude and unbecoming, and I am completely humbled. So...if you've written me in the past couple of months, expect an e-mail soon!:)
Thanks for your comments and prayers. I love you all so dearly.
|
12.19.2005
Miz Productivity
Today has been one of those kinds of days where I actually want to tidy and clean and do all those sorts of homey things.
Here is what I have acomplished so far:
1) Organized Jessi's room
2) Organized and cleaned David's room (which was *really* bad, how does he manage?)
3) Cleaned the kitchen
4) Loaded/run dishwasher
5) Unload dishwasher
6) One load of laundry (with two more to go)
7) Tidy living room
8) Pay the bills
Here is what I still need to do:
1) Make up my bed (didn't have the heart to because Gypsy was curled up so cute and comfy and I didn't want to disturb her. Nah, my cats don't run my life...)
2) Vaccum
3) Finish laundry
The icing on the cake was when I finished my bills I discovered we had more money left over than I thought. Woohoo! Gotta love that.:)
My computer is on the fritz again, but we think this time it's only the video card. Blegh. I am going to try to upload some new pics to my photo blog, if I can get them uploaded to the computer successfully. I really want to upload a pic of my Cheshire Cat scarf, which gave me a moment of panic last night; I had dropped a stitch and could not fix it, so I ended up ripping out nearly ten rows and somehow managed to loop the scarf back on my needle and keep chugging. I've even been taking it to church with me to work on after prayer and before the service starts.:)
On the cross stitching front, I've tabled a couple of BAPs and I've started some small designs that I actually have a snowball's chance in You-Know-Where of finishing before my great-grandchildren are born. I'm working on Dragon Dreams
"Castle of Spring"
, and I have some other designs of Jen's that I've been wanting to work on. I love dinosaurs but not nuts about dragons, so I'll be de-winging some of the draggies to better suit my sensibilities.:)
Well, that's about it for today. I need to go fold another load of laundry and run the vaccum, and then perhaps I'll treat myself to a honkin' big mug of coffee and stitch time.
|
12.15.2005
Tag I'm It
I've been tagged by Dana to share my list of ten things that range from the strange to the utterly boring.
Here goes:
1) I can't curl my tongue, a talent I sorely wish I had.
2) I am very Goldilocks-ish about my bananas; if they are slightly green, they are too hard. If they are slightly brown, they are too soft. When they are golden yellow, they are
just right!
3) When grocery shopping, I can't take the item in front that everyone has pawed over, I have to take the product behind the one in front. It's fresher. I'm particularly obsessive this way over magazines.
4) My second toe on my right foot has a slightly deformed toenail.
5) I have no tolerance for things in general when I'm sick (sorta like today).
6) I have a perfect ring of green around my pupils, which makes my eyes look green on many occassions (although they are really blue).
7) My staple pizza is extra cheese and banana peppers, with the occasional pepperoni.
8) I like my name. However, if I could change my name to anything in the world I would change it to Arwen.
9) I thought the Phantom in the film's version of Phantom of the Opera looked better in his disfigured state than Raoul looked in his natural one.
10) I think the moon is one of God's most exquisite creations.
There you have it, the UN can now resume it's meetings.
Tags go to
Val
,
Belinda
, and
Rosemary
. Enjoy.
More to add:
What Muppet Are You? Miss Piggy!
(it figures)
You are Miss Piggy.
You are talented and the center of attention. At
least you'd like to think you are. You're
really just a pig.
FAVORITE EXPRESSIONS:
"Moi", "Moi" and
"Moi!"
LAST BOOK READ:
"Women Who Run With Frogs And The Frogs Who
Better Wise Up Quick"
FAVORITE MOVIE:
"To Have and Have More"
DRESS SIZE:
If it's expensive, it fits.
BEST FEATURES:
Eyes, eyebrows, eyelashes, nose, cheeks, hair,
ears, neck, shoulders, arms, elbows, hands,
fingers, legs, knees, ankles, feet, toes and so
on and so forth.
SPECIAL ABILITIES:
Singing, Dancing, Directing, Producing, Writing,
Starring, and Being Famous.
What Muppet are you?
brought to you by
Quizilla
Swiped from
Rosemary
and
Angie
, you muppet-y influences you...
|
12.14.2005
Fighting Off the Ick
Well. It's been an interesting couple of days, that's for sure.
Sunday was wonderful, which was kind of surprising considering it started off with me being a total freak. I despise being late, and although the alarm went off at 7:30 AM I chose to cop a snooze until about 8:00. Of course, then it was a frantic rush to get myself cleaned up and the two kids up, fed, and dressed so we could be out the door and hit the road by 8:45. Da Hub helped, but I still had to snark and blast and get my panties in a wad, because that's just what I do when I'm stressed. You'd think I'd learn to chill by now; every Sunday I have to be there at 9 AM for praise team practice, and nearly every Sunday we make it before anyone else, including the song leaders. Robert very firmly informed me he was not going to have me going ballistic every Sunday morning to rush us all, especially considering it was my own fault for not getting up on time. Begrudingly, I have to admit he's right. Me spazing about being late does nothing but raise the tension level in the house, and it does not get us any closer to the church; I suppose it might be nice to actually walk out the door in a state of calm once in a while.
Church was great, and Brynna and I got to do our duet of "What Child Is This". She played the harp while I sang, and it was a sheer joy working with her. She may only be sixteen, but she's very proficient on the harp. She's going to be very, very good one day and I see her giving Loreena McKennit a run for her money. She's wanting to learn LK's "Lady of shallot" and I told her once she learned it I would sing it while she played. Methinks we make a good team.:) Sunday night was nice too, for it was the children's Christmas program. They are all so cute! It was especially cute to see the little 1-5 year olds sing Happy Birthday to Jesus.:)
Monday was, well, Monday. After 37 years I have finally come to the conclusion that Monday's and I just do not get on. Things were tooling along fairly swimmingly, lulling me into a false sense of security that the day was actually going to turn out Nice, when all of a sudden it threw me a curve ball that left me standing slack-mouth wondering what else could go wrong. And to make things worse, it involved my dimpling and golden haired daughter, whose angelic appearance often shrouds the firecracker that lives within.
WARNING:
what follows is TMI, especially for the queasy-minded. Read at your own risk.
I had put her down for her nap, and while I heard her quietly talking to her babies I figured it was only a matter of time before she fell asleep. Not so, Kemosabe. About an hour later I heard her come into the hall and say, "Mama, I got yuck on my hands". 'Yuck' is her word for 'poop', or for something else for the creatively minded. Not only was it on her hands, it was caked on her hands; her fingers, fingernails, the whole schmoely. I immediately knew what had happened, the very thing we have been desperately trying to break her from doing, the one thing she *knows* she's not supposed to do, that disgusting, despicable thing that just leaves me wanting to gag in revoltion: yes, she had been fingerpainting in her feces once again.
I immediately shuffled her into the bathroom and made her stand perfectly still and NOT TOUCH ANYTHING with those nasty hands. Once I got her tub bath drawn, I put her in it and went to survey the damage.
Dear.God.In.Heaven.
It was the worst I'd ever seen her do. It was all over her dresser. It was all over the carpet. It was flung on the opposite wall. It was on the closet. No kidding, no joke. I stood there like a statue, numb with disbelief. I couldn't believe my eyes, and that's when it hit me that
I'm
the Mom and it was
my
responsibility to clean it up. If I was a cussing woman, I would have been raining down fire from heaven and causing salty sailors to blush like virginal brides.
I wanted to cry. As a matter of fact, I think I
did
cry. I'm not sure, it's all still a blur.
At the same time as the massive scrub-down, my four cats decided to get hairs up their fuzzy butts and try to kill each other. I don't know what the problem was, but twice I had to dive in and separate roiling, hissing, scratching balls of fur as they would whiz by. I finally got them separated by shutting Gypsy up in my bathroom and Julius in my bedroom, which seemed to calm Irwin and Mulder down a bit, and then it was back to the Muck Room. Jeeze, mon!
I cleaned it all up. I don't really know how, but I did. I used Windex foaming cleaner, Fabuloso cleaner, Mr. Clean Magic pads, close to a roll of paper towels, two large terrycloth towels, and one extra large can of Apple Cinnamon air freshener. It took me forty-five minutes from start to finish to get all that muck up. My daughter looked like a extra-shriveled raisin when I got her out of the tub, because I had her soak and play in there while I cleaned up her handiwork.
Have we told her not to do this? You bet. Does she know not to do this? Absolutely. Did I spank her little bottom? Yesiiiireebob! Not to mention she was grounded to her room until supper time. I don't know what it's going to take to get through to her that this is just not acceptable, but I'm going to tow the line and stay consistent. I do NOT want to have to go through that again.
Tuesday was brighter, although I felt kind of gross when I woke up (and after Monday, I wasn't completely surprised). I felt sniffly and my throat was a tad sore, so I took it easy due to the fact that I didn't want to miss the church Christmas banquet. I was singing again, this time "Who Would Imagine A King" with a soundtrack. Not to mention I didn't want to miss the good food and fellowship. It was awesome to be with people that understand that Christmas is truly about Jesus and the rest is just gravy. As expected, it was all very nice and elegant and a good time was had by all, until I got home...that's when I started feeling gross again.
So here we are, this morning, and I'm still fighting off the ick. This time, however, it's my stomach as well as my sniffles. I think I overdid it with the coffee last night at the party, for lately I've been drinking decaf. I was in Major Coffee Overload last night and I think it's taking it's toll on my tummy.
Ugh.
And it's cold in my house, which does not bode well when I'm feeling sick. I know my gas bill is going to be a fortune, but I'm going to crank up the heat so at least I can feel snuggly.
I'm off to pick up David from school in about fifteen minutes, and the temperature is dropping outside pretty rapidly. It's much colder now than it was this morning when I made my Hobby Lobby run. I think we are supposed to get ice, and if we do you can count on Atlanta shutting down faster than you can say, "Look! It's snowing!", which of course we rarely say because this is, after all,
ATLANTA
, and we just don't get favored with snow. Whatever.
In a crafty note, I've tanked my rainbow scarf for the time being. I've made too many mistakes, sailing beyond the It Gives Character category and parking into the She Has No Clue What She's Doing one. Fine. I'm not, however, giving up! Nosireebob!
I've promptly decided on a new project and new colorway, with colors that will cheer me every time I stitch it.
Here are the new colors:
and
Meet the inspiration:
Yes, I *love* the Cheshire Cat, so I've decided to make my very own Cheshire Cat scarf. It will be a very biiiiig scarf, for I'm going to attempt to stitch it in the round and the only circular needles I could find are 29" instead of 12"-16". That's okay; any scarf this colorful named after such a character should be larger than life.:)
BTW, I've been tagged by a
Soulful
one to share some Useless Information, but considering this blog post is already longer than one of Santa's lists (and I ain't sayin' which one!) I figured it could wait until tomorrow.
Until then, Feliz Navidad!
|
12.09.2005
Two More Days
Two more days until I start Phase II of the South Beach Diet. I weighed this morning, and I'm standing strong at 10 pounds gone. Woot!
Both of my children are in school this morning. Ah, to relax at the computer with nary but a cup of coffee. Bliss. This weekend will be nothing but a wonderful mass of blog reading, knitting, stitching, and sketching (I've got a couple of designs for Jo that I need to work on).
Speaking of knitting, I'm starting to freak out a little on my scarf. I am chugging away on it and it's looking great, but it's starting to 'curl' in on itself, even though it has knit stitches on the side to anchor it. I'm hoping the curl will go away once I block it, but considering I have a ways to go before it's finished I just need some reassurance. Maybe the yarn I'm using is too soft to support a stockinette stitch, but I hope that is not the case; I've done a lot of work so far. I actually started my turquoise band, so I'm almost finished with the first rainbow set. Hm.
BTW, Kirsten asked me how in the world how I'm able to do all the above mentioned things with the kiddos around, and my answer is this: the annual "Parents Night Out" day hosted by their school, a 12-6pm extravaganza specially designed to cater to parents and children alike. I will indulge in six lovely hours of someone else caring for the kitlets, knowing that while I'm relaxing at home from the holiday stress they are running around like banshees, having the time of their lives with their friends. Ah, yes! I am sated.
Oh.My.God.
Meet the Prom Dress a la 2006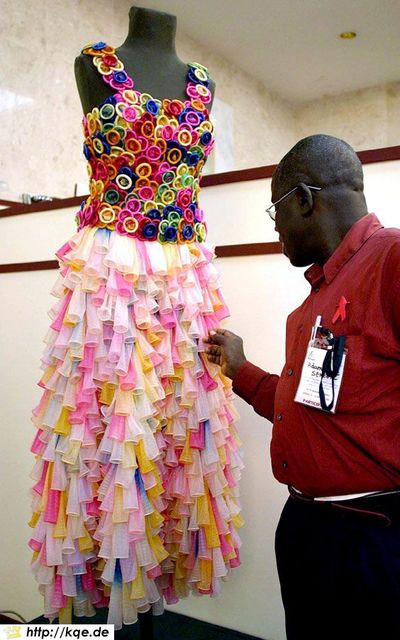 I saw this on
Dana's blog
and had to share. If this doesn't speak volumes about our society, nothing does...
|
12.07.2005
Officially a Knit-Wit!
Yes, I have started my very own knitting notebook! And the crowds go wild!
I've decided to knit up a catalouge of sampler stitches to keep in this notebook, all with the same yarn consistency and size. For the first two swatches I've used plain worsted weight, which is basically a four-ply yarn (this is for those who have no clue about this sort of thing, but considering I may be the last person on the planet to be learning these things I'm probably wasting your time. But so what, if your reading this blog that means you've have time to spare anyway, so what's one more minute? But I digress.) I've used Red Heart's Cornmean and TLC's Robin's Egg Blue, which actually stitches up a tad grayer than it looks on the skein.
Behold my samples of the Reverse Stockinette stitch and the Garter Stripe stitch: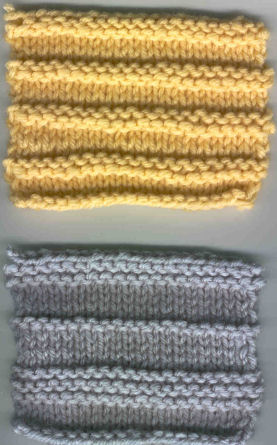 I'm chuffed about them, I am! I know it's not a scarf or a sweater, but I love knitting these little swatches; it gives me the practice I need, they are super quick, and I can actually have something to refer to when the need occurs.
I've also started a rainbow sweater for myself using
Caron's Simply Soft Brites
(yes, I like day-glo! It's my latent-hippie, I suppose). I decided to do the neon instead of traditional rainbow colors, and it's just dreamy to the touch.
Here is my progress so far:
The colors I've knit so far are Watermelon and Mango, and the other colors (in order) will be Lemondade, Limelight, Blue Mint, Berry Blue and Grape. The pattern is simple, just a combo of knit and purls. I made one little booboo and knit where I should have purled, but it's only two stitches and I was not going to rip out the whole thing for two stitches. On a more complex design, I would, but not on my first scarf. It gives it character.:)
Here is a closeup of the joined yarns:

Not bad for a wet-behind-the-ears-newbie, huh? Huzzah! I'm hoping to get the Lemonade stitched on today, as well and the Limelight.
I am enjoying this project so much and it's so relaxing that I can't wait to get the rest of the colors on. It will be awesome to actually wear something I've made with my own two hands. The only problem is that there are so many other projects I want to work on that I'm afraid I may become a serial starter.
Hmm...anyone else knows what that feels like?;)
|
12.05.2005
MONDAY-blech
As if we need to say anymore about that.
I woke up this morning to rain. I was warm and comfortable, and the prospect of dragging the kiddos out of their beds and into the cool of the day did not jive well with me. Then I remembered how David's K5 class did not get to complete their Christmas sweatshirt projects on Friday, and knew it wouldn't be fair for him to miss that just because his mother is too lazy to drag her big butt out of bed, so I did just that; dragged my big butt out of bed. Although, according to the scale, it's a butt that is ten pounds less than it was a week ago, so that was a little bit of sunshine on this dreary day.
Yesterday was nice. Church was great, except I've worn out my voice a little from singing so hard. Sometimes the music starts pumping, the Spirit starts moving, and the people start praising...and then I end up with a slightly sore throat the next morning. Oh well, no big deal; I figure if people can scream their heads off like maniacs at football games or rock concerts, then the very least I can do is open praise the God of the universe like He deserves. What's a little sore throat in the company of the King?
I've been knitting away on my scarf, until I discovered
Lion Brand's Wool-Ease
. This stuff is soft and *wonderful* to work with! I think it's become one of my favorite yarns. I have the Blue Heather and White Multi (this one has an opalescent thread running through it) and I am going to make a scarf with them using the basic garter stitch. I wish I was a fast knitter, but if I'm consistent I should be done in time for when it *really* (ha ha) gets cold here (today it's kind-of-cool-so-so, while yesterday it felt like we were being visited by the Bahamas in spring...with rain).
I've been dealing with something lately, something that has been giving me a very difficult time. Last spring Robert and I asked our best friends if they would consider becoming the guardians of our children if Robert and I died. We've been thinking about making our wills, and we wanted to be sure the children would be provided for. The kids are very close to our friends (and vice-versa), and we all have the same values so we thought it would be the perfect fit. They said of course they would think about it and let us know. We knew it was a very big decision for someone to make, so of course we gave them all the time they wanted. The months went by and we did not hear anything from them about it, so I thought maybe they forgot.
Fast forward to November: I finally asked my best have to say no. She said that she just didn't think they were ready for that kind of commitment and work (David is 6 and Jessi is 3). If I may be vunerable for a moment, I admit that I was stunned. I honestly thought they would say yes. I tried to be cool about it, and I said, "Well, we just don't want them to become property of the state", to which she replied, "Oh, no, we'd take them before it came to that". Well, that was the whole point of putting them as their guardians in our wills. Once we are dead, they won't have a leg to stand on unless specified in our will.
Many years ago my sister-in-law asked me if Robert and I would take my niece and raise her if anything happened to her and my brother Bob. I think Brynna was about eight at the time (she's now sixteen). We did not have children at the time, nor were we planning on having children, and to be honest I wouldn't have known what to do with a kid, but Robert and I talked about it and we decided that we would do it. Not only would it give Bob and Rhonda peace of mind about what would happen to Brynna, but our niece would be with us. I took that request of Rhonda's very seriously, and it stands to this day. If anything happened to Rhonda and Bob, I fully assume to become Brynna's guardian.
I think all of this is why I was so shocked that J told me no. I suppose I should be more giving in this situation than I am, but to be honest I am feeling horribly rejected. I'm feeling like my children have been rejected. And I wish they had come to us and told us, instead of answering me almost as in a afterthought. Things have not been the same for me since, and I wish there was some way I could discuss it with her. Couple that the fact that she has rekindled a relashionship with an old friend (the two had been very close several years ago, but had had a nasty fall out) and the two have become thick as thieves. I'm genuinely glad they have ended their animosity towards one another, but I'm afraid that now I have been replaced. Don't get me wrong; I have not been treated any differently necessarily, but that 'exclusive closeness' is just not there anymore. I've tried to push these feelings aside, and I'm still here for her if she needs me, but I don't "share" best friendships very well. I never have. I like to have close friends, but I'm also the type that likes the exclusiveness of one special friend, one that I can trust with anything. I thought I had that, but now I'm not so sure. And, of course, the more I dwell on it the more upset I get. I've been praying about it, and praying for them (it's hard to be angry with someone when you are praying for them) and some days are better than others, but I still have those upsetting moments.
sigh
. I keep telling my children not to be in such a hurry to grow up, for things are not much easier once you are grown; somehow the fact that we can eat dessert first if we so desire does not comfort me in times like this.
On a happier note: I'm getting together with Brynna tonight to rehearse "What Child Is This" for next Sunday morning service. She's playing the harp and I'm singing. She plays beautifully, and it will be an honor to perform with her.:)
|
12.02.2005
Photoblog is now ACTIVE!
I uploaded my first picture to
Black Cat
today. Woot!:)
I'm going to use my photoblog as a pictorial "day in the life", so to speak. Each day I will upload a new picture, to the best of my ability. It will be interesting to track how my children grow and the antics of my furbabies through the medium of the camera.
I hope you enjoy viewing them as much as I enjoy taking them!:)
|
12.01.2005
On the Road Again
Yesterday I started my journey towards Rivendell again a la
Eowyn Challenge
. I use
Leslie Sansone's In Home Walking
aerobics program, where you basically walk a mile or two per session. It will take me a hundred years to get there doing it this way, but at least I'll get fit along the way.
Had another weigh-in this morning: one more pound zapped, which makes a total of 8 pounds since Sunday. I am going to keep track of my loss and excersice tally at the bottom of each post, to help me see at a glance my progress (and also help keep me motivated when the "dreaded plateau" decides to strike).
So, in review:
Weight loss trackerStart date:
11/27/05
Weight lost today:
1 pound
Miles walked:
1
Total weight loss: 8 pounds
Sweeeeeet.
BTW, I made this blinkie for any Eowyn Challenge participants to use. I'm going to make a section of links in my sidebar for Shieldmaidens for those Rivendell walkers so we can keep tabs on each other!:)
Isn't she cute?:) I can't take credit for the doll (I forget where I got it, I collect so many of them!) but I made the base. It's unanimated at the moment, but I kind of like it that way. I may animate it in the future, we'll see.
A very cute and unrelated story: I put some
Heaven and Earth Designs
on my Christmas list, and gave Michele's number to my Mom. She didn't have a link to the web site, so she called and asked to speak to Michele to place her order. Michele wasn't there, so Bob answered instead. My Mom asked him, "Do you know Stacey Tippin?". She said he sounded very lively and excited and said, "Why yes, she's one of our artists!". Mom introduced herself as my mother and they chatted, etc. I had forgotten to tell her Bob was Michele's husband, and thes she told me she thought it was so nice that even the "Christmas staff" knew who I was! I said, "Mom, he's no staff, he's the propriator!" She had no idea, and just assumed the office staff would be the ones answering the phones! We both had a good chuckle, and she was so impressed with how nice he was. Once again, HAED's customer service totally prevails. My mom was so impressed by his friendliness and enthusiasm. I even told her about their wonderful e-mail options, and that in a couple of days Michele would be releasing some new ones, and that I may have a couple of more items to add my Ho Ho list ::
grin
::.
On the knittier side of things, I've finished three stripes of my striped scarf, but due to not having my camera software installed (still) I can't post a picture. It's turning out so nice. Not that it's blemish-free; far from it. I've made some boo-boos here and there, but so far nothing catastropic. I don't get "weaving" yet, so I've been tying knots and cutting the extra strings from the color changes, but they mask up pretty good. I'm having such a good time with this project that I want to make scarves for all of us. The current burgundy and gold one will be for David, purple and pink for Jessi, black and red for Robert, and then maybe a rainbow one for me. They are a blast, and are very easy for a beginner.
Knitting...
woohoo!
I'm planning on picking up on my
Got Fairy
project that I started earlier this summer. It was my first HAED ever, and I've been kind of nostalgic for it. The colors in the floss box are simply stunning, and considering pink in every shade is my favorite color, I'm totally drawn to this piece. I have over half of page one done, which consists of the upper half of her left wing. Not to mention, I would love to finish
one
page of at least one of my HAEDs.
I'm heading out now to pick up my son from school. We have to get him a white sweatshirt for his class tomorrow; they are decorating them for Christmas. Hmm, perhaps I'll stop by Michaels and scope out the yarn, one can never have too much yarn...
Toodles!
|